Enabling Networks Münsterland (2019-2022)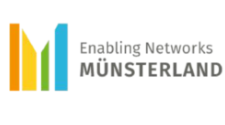 As a regional network initiative, Enabling Networks Münsterland supported companies and universities in Münsterland in developing innovations, implementing them and finding the right partners for the project.
As a technology scout for life sciences, the association was responsible for the content management and moderation of entrepreneurial think tanks in the field of life sciences and, in cooperation with Münsterland e.V. and other partners, derived recommendations for action and strategic future topics for the region from the discussions in the life sciences think tank. Through the project, the association has established itself as a firm member of the innovation infrastructure for the Münster and Münsterland region.
For further information, please click
here
.